The holidays are over, the gifts are exchanged, the cookies are gone, and the decorations are stowed away. No matter how much we proclaim that it's nice to return to our usual routines, there is a little sadness in losing the sparkle of the season.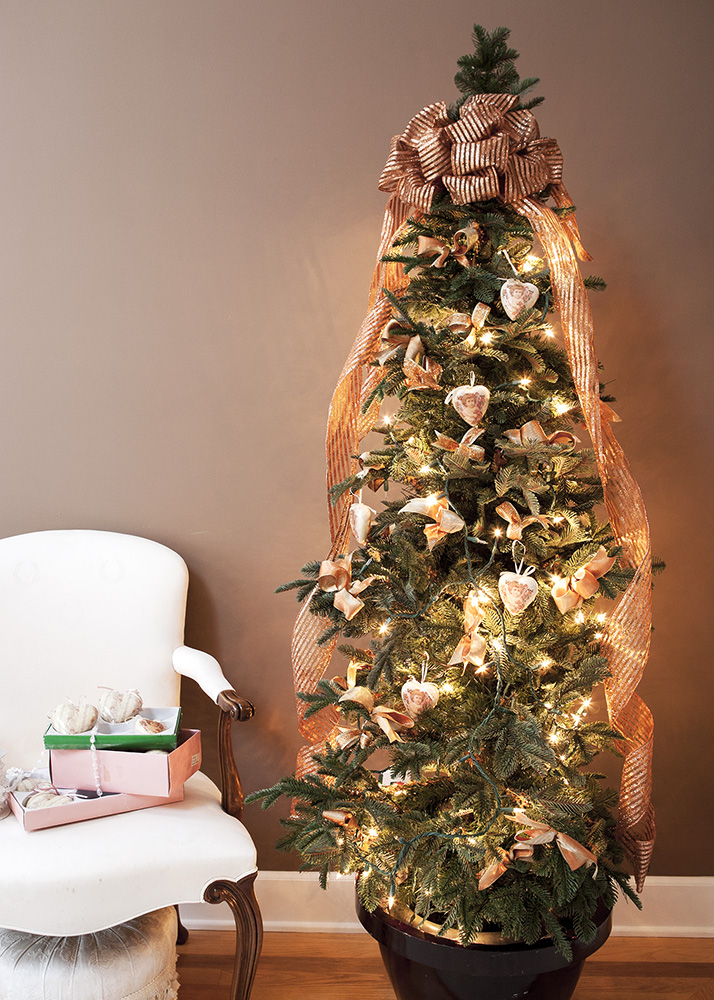 Repurposing
What better way to avoid the blahs than by preparing for the next holiday… think Valentine's Day. Many of the live evergreen wreaths and swags used outdoors may still have some life in them. The red bows and accents work well when decorating for Valentine's Day. Swap the snowmen and Santa for hearts and cupids and you've given them a new life. Pinecones, and tree shaped decorations can be used throughout the winter as well.  Poinsettia plants, which last several months, can also be converted to Valentine decor. The pink and white varieties, which have much less of the traditional holiday look than the red, work particularly well. Visit a craft store for seasonal ribbon and decorative pieces that can be placed in the potted plants.
Think big! Invest in one or two large heart-themed accessories. For the lesser-celebrated holidays, we tend to buy several small items and scatter them throughout a room. For a much greater impact, select one large piece to become a focal point and two or three smaller pieces to complement it.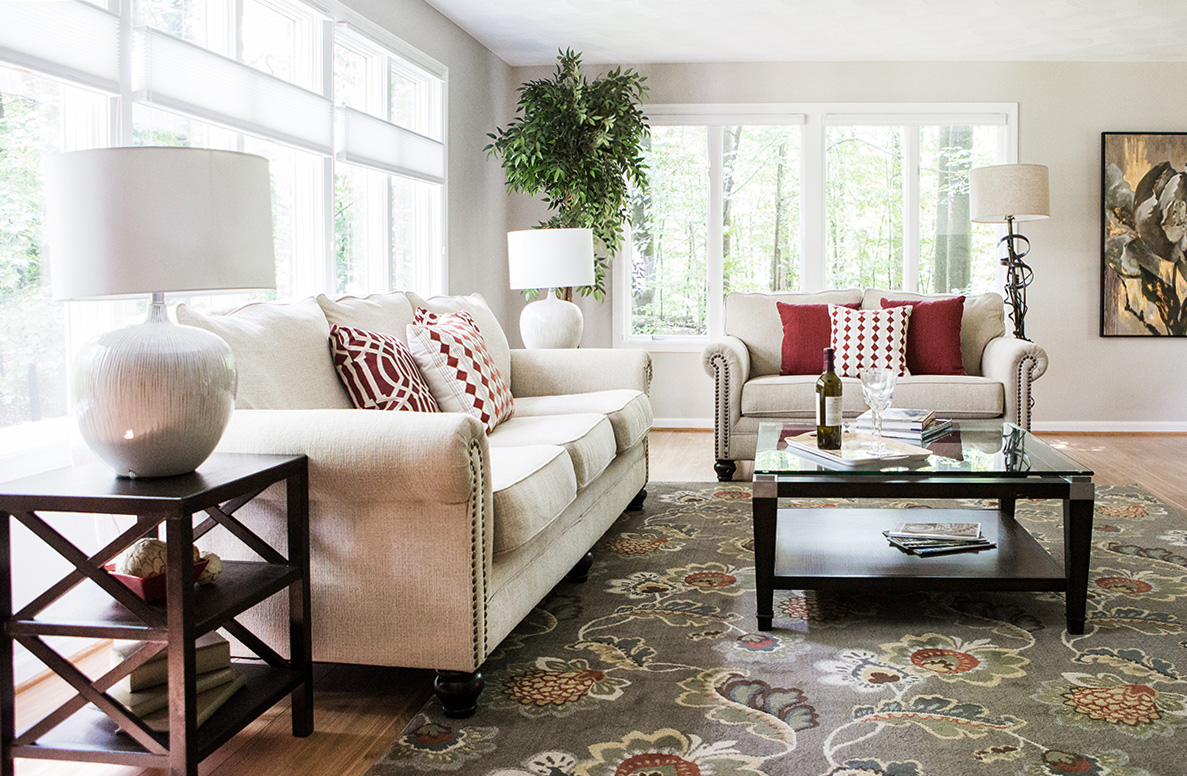 Lighting
When the daylight hours are short, lighting becomes crucially important. Maximizing natural light during the winter months is key. Keep the heavy curtains or shutters open until nightfall and if you need privacy try using just sheers. Then add layers of artificial light. In short, increase your overall illumination scheme to make up for those lost daylight hours.
Strive for at 3 sources of light in a room. Add table and floor lamps throughout your home, and swap out low-wattage bulbs with brighter. The combinations of light coming from different directions will envelope a room. Create layers of light and options for reading, entertaining, and movie watching with an ample supply of table and floor lamps. Use dimmers to change up the ambiance on your overhead lights and ceiling fixtures, and three-way bulbs in your lamps where possible.
Low lighting and incandescent bulbs tend to convey more warmth than bright overhead lighting. However, fluorescent bulbs, which cast a blue light that's closer to daylight, are a better choice for mood-improving interior lighting. Don't let preconceived notions stop you from considering fluorescent lighting. Current fluorescent bulbs come in warmer shades. Look for terms like "warm white", "daylight," and "sunshine" Those warmer colors can also work in living spaces.
Incorporate decorative candles and lanterns into your winter décor. The options are endless! Flameless candles are great because you can place them almost anywhere without safety concerns. They provide a great way to brighten up dark corners and add and element of warmth.
One good way to lift the mood in a room is to include mirrors, lamps and metallic pieces. Metallic accents, lamps and mirrors work double duty, adding an additional glow of light and a splash of color at the same time. Items that bounce light are instant mood lifters.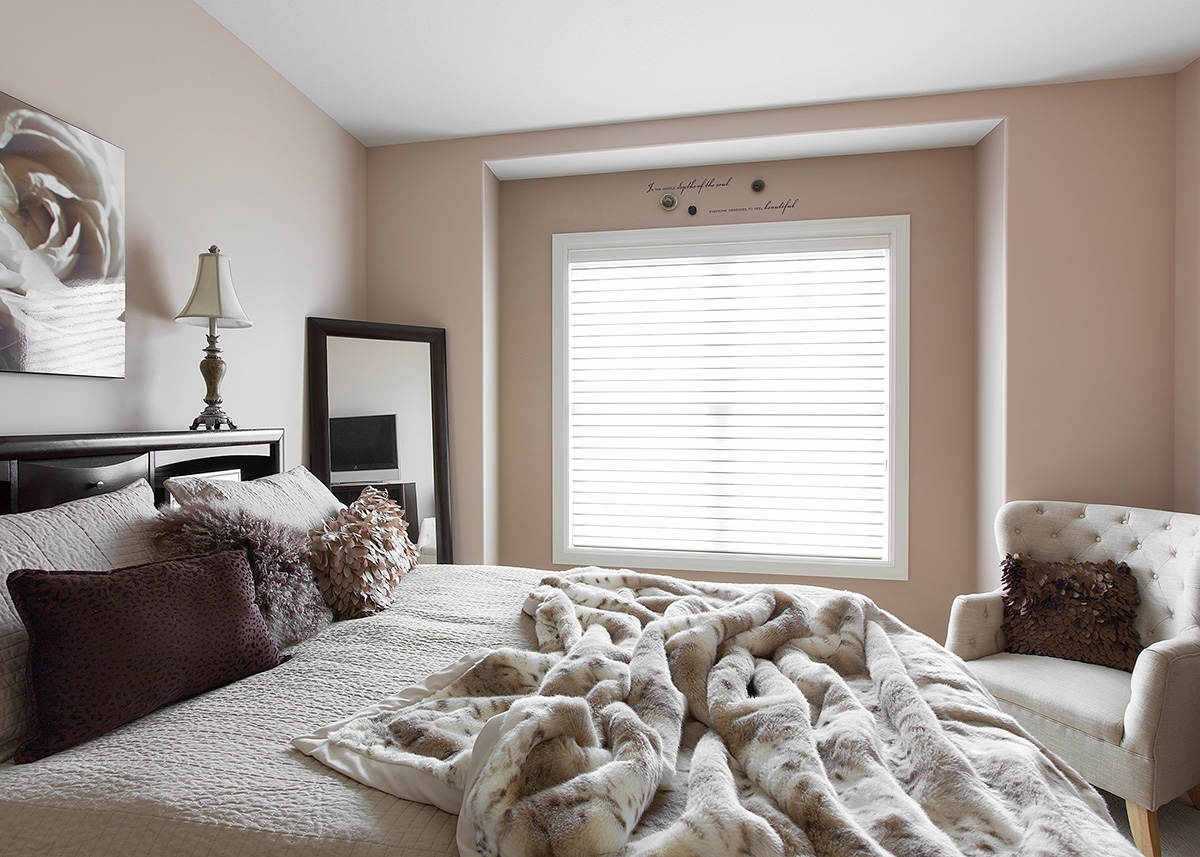 Textiles
Adding a warm hue within a neutral setting is one of the easiest ways to inject warmth and energy into a space. Cushions, rugs, throws and bedding are great for making your home feel cozy and warm during the winter months. Not only do they look great, but they are affordable and comfortable too. Add some bright and bold throw pillows to your sofa, or buy a bright new bedspread to liven things up.
Sofas and chairs should beg you to sink into them. Drape hard-backed furniture with warm throws: chenille, faux fur, and mohair to name a few. Change your cushion covers to velvet, suede, wool, or heavy-weave cotton. Avoid silk, polyester and anything that looks shiny and feels cold. Add a large statement rug that is soft underfoot, especially if you have wood or tile floors. Top a large area rug with a smaller one for a layered look.
If you have bare hardware floors in the bedrooms, add a rug.  Even a small runner next to the side of the bed will make a difference. Add a canopy or drape fabric on your four-poster bed. Add an extra quilt at the foot of the bed. Consider adding a flat-weave, washable rug to a tiled bathroom floor. Not only will it have a warmer look but it will also make getting up on cold morning a little more pleasant.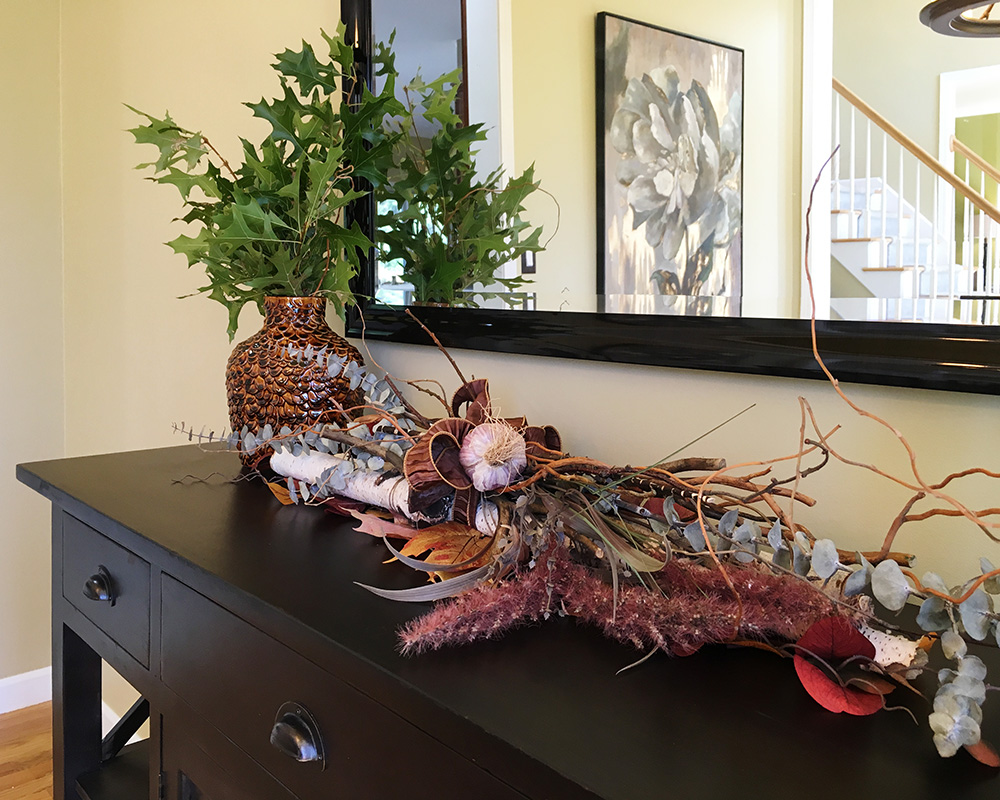 Plants
Bring outdoor elements inside. Flowers and fresh plants help bring oxygen inside your home and can make it feel more comforting. Using natural objects, with warm colors and varying textures, helps create a sense of warmth. Add vases of flowers throughout your home. This provides instant cheer and brings nature to you, even when it is too cold to go outside.
If the landscape outside is cold and barren, make your home a place of coziness. Generating a warm cozy feel in areas such as the living room and the bedroom will inspire feelings of comfort, particularly when contrasted with the cold outside.
The kitchen is a great location to include plant life. Some people display herbs in vases close to their culinary area. Fruits and vegetables such as apples, oranges and artichokes add an organic feel to a room. And there's nothing at all like a vase filled with blossoms to add live to a room.
Succulents and air plants are great for small spaces.  These lower-upkeep indoor plants are quirky, fashionable and eye-catching, especially when arranged in containers such as glass terrariums.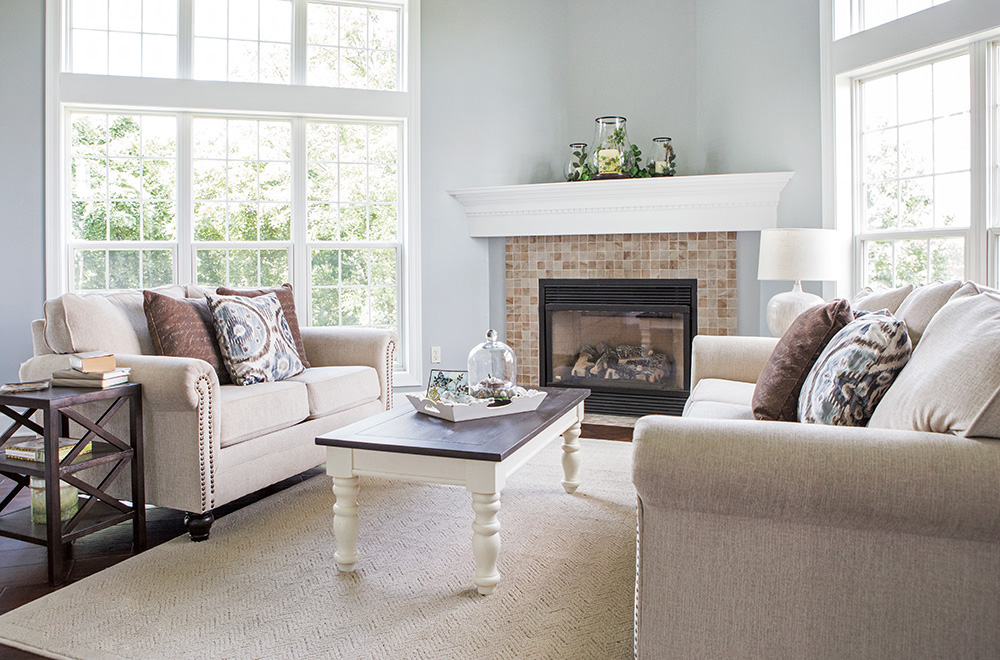 Furniture Placement
Furniture arrangements should be inviting, not sharp and formal. Avoid rectangular, square, and L-shaped configurations. Aim for flowing lines with circular and hexagonal layouts. Try placing a chest across a corner rather than against a wall to soften the angle. Pull sofas and chairs away from walls and closer to a focal point like a fireplace or a window with a view. If space allows, create more than one seating area. Create a cozy a reading corner with a comfortable chair and a small side table. Where space is limited try upholstered cubes or heavily textured floor cushions. Designate a spot for activities or games that you can leave set up like a jig saw puzzle or chess.
Add sentimental décor objects. Items that make you feel good, like photos of family and friends or vacation memorabilia. Weather it is a warm comfy sofa or a fireplace, select areas that you would like to highlight in your home. Adding little touches of personal decor can increase visual appeal as well as remind you of happy memories.
When it is cold outside think of décor items that will make you feel warm and cozy inside. Happy decorating!