Saturday I attended the Junior League of Rochester's Home Tour 2012. It featured six historic homes in the village of Pittsford. Funds raised by the home tour support the Junior League of Rochester and GIRLSrock, a program that provides young girls with guidance in finance, fitness, safety, the job market and nutrition.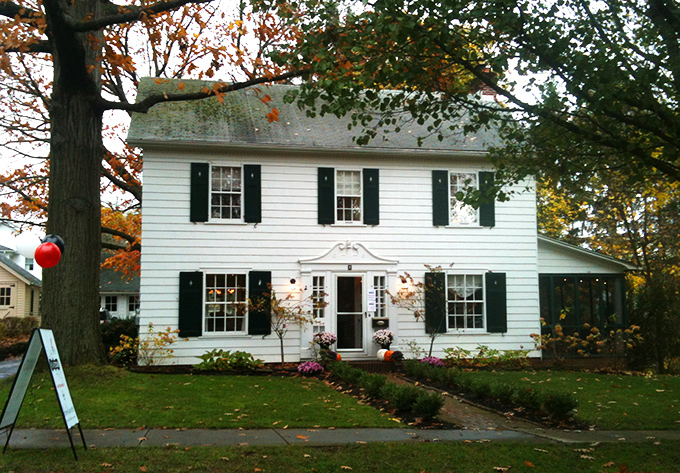 In five of the six homes, local designers worked with the homeowners to prepare their homes for the show. I have the pleasure of knowing two of the talented designers. Mary Jo Quatela-Stuher partially furnished and accessorized 9 Elmbrook Drive from her retail shop,
Ambiance
, on 3400 Monroe Ave in Pittsford. Donna Ehmann of Donna Ehmann Interiors did a great job on 31 Monroe Avenue. Donna featured two beautiful pieces of art from one of my favorite local artists,
Brian O'Neill
. Local florists provided gorgeous live floral arrangements that were incorporated into the home décor.
Flowers and Fountains
, my go-to florist in Mendon, designed beautiful topiaries that flanked the fireplace mantle 
at 24 Washington Avenue. 
Though picture taking was not allowed inside the homes, I did get a few exterior shots to share. The landscape at 20 Rand Place included a sunken patio, stonewalls and a koi pond with a waterfall feature which was outstanding.
It was worth a walk in the rain to see these beautiful historic homes that managed to combine modern conveniences with old world charm. Congratulations 
Junior League of Rochester
!
home staging, Rochester, New York, Act Two Home Staging, Leona Piro, staging, decorating,rochester home stager, rochester interior designer, mendon, ny, junior league of rochester, pittsford, home tour, brian o'neill, flowers and fountains, donna ehmann, 
Mary Jo Quatela-Stuher