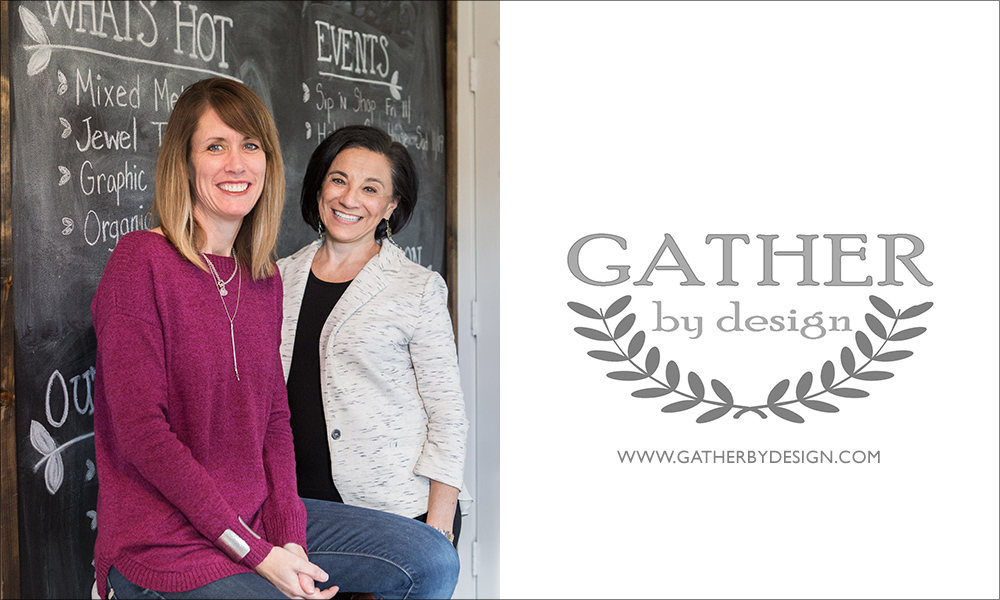 I know first hand the struggles and rewards of being a small business owner. It makes me especially supportive of these entrepreneurs. As an interior designer and home stager, I am always eager to find unique housewares, accessories, furniture and art for both my own use and my clients. Some businesses I stumble on and some stumble upon me. That was the case with Julie Knight of Gather by design (formerly Centsibly Chic Home).
In December of last year, Julie contacted me via email and suggested that we get together to discuss how our complimentary businesses might benefit one another. After meeting over coffee, it was evident that not only our businesses but also our personalities were a good match. We have since supported each other through cross referrals. Julie has redesigned four furniture pieces for me along with one in the works. I have so many clients that are ready to sell or give away worn or dated pieces and I love referring them to Julie who gives them a second life.
Julie shared with us some of her thoughts on being a small business owner and designer.
"Gather by design is a vintage-inspired design studio and market where I offer my hand finished vintage furniture, unique vintage decor, and a curated collection of decor and lifestyle items created by local makers. My primary business, however, is painting or restyling other people's furniture through my custom service. They bring their furniture to the studio and through an interactive design process we decide upon the new style for their piece. The Gather by design market is meant to compliment my furniture business and to give me the opportunity to bring back the social aspect of design that I truly love. My plan is to start offering unique workshops in 2017 that will allow my clients to experience all aspects of design through a more hands-on experience." – Julie
"I truly love all aspects of design, but my absolute favorite is talking about it with other people. The best compliment for me is when a customer comes in and tells me they saw the before and after of a piece I painted and it inspired them to give it a try. I also love when a client comes to me with a piece that has a lot of sentimental value, but is in desperate need of some love. I've had several clients cry when they've come to pick up their piece because they not only get to keep something that was special to their loved one, but it is now a beautiful statement piece for their home. It's times like these that I remember why I got into this business in the first place." – Julie
"I know that if my business is going to be successful, it has to be constantly evolving and open to growth opportunities. I also have to look at my competitors to identify ways in which we can help each other, rather than just spin our wheels trying to take each other's business. If each business has a unique talent, you can use those talents to collaborate and take on a larger market share. Rochester also is fortunate to have a large pool of extremely talented and diverse makers and I'm constantly seeking out new handmade products to bring to my market that fit with my overall aesthetic. I love the idea that when someone shops at Gather by design, they are often supporting TWO local small businesses in the process." – Julie
"Of course, like any endeavor, there are always things that I wished I had done differently or that I had taken more time to pursue. However, that kind of thinking doesn't serve me well so I try to avoid it as much as possible. The number one obstacle I face day in and day out is time… or the lack thereof. The creative aspect of a business like mine takes up so much time that it's very difficult to work in things that are critical to success, like marketing and finances. It can be even more frustrating to know everything you should be doing for your business, but just can't find the time to do those things." – Julie
"Now that I'm feeling somewhat "settled" at the studio and market, I'm starting to develop ideas and plans for the future.  I really want to create something that's truly unique to the Rochester area so I constantly have my ear towards what is the next new thing. When it comes to retail, it's definitely a need to create a place that's a destination… not just somewhere to shop. People want to feel like they belong to something great and they can incorporate it into their everyday life." – Julie